Remembering Reagan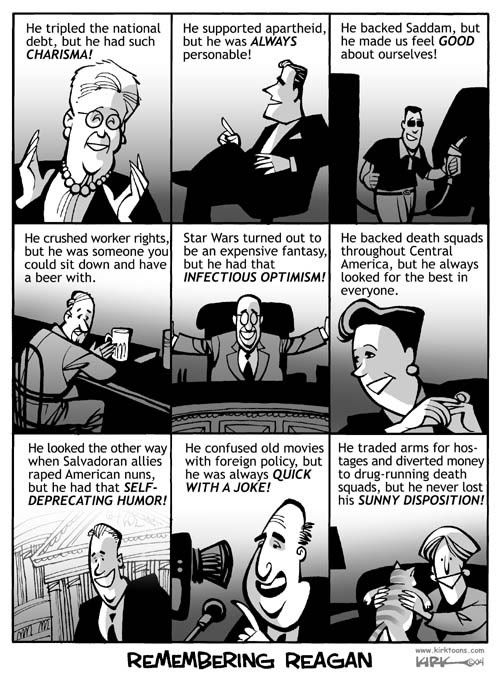 Remembering Reagan...
[h/t to Doug, at Eschaton...]
"
Meet RINO Reagan
:
This weekend, Republicans marked the 100th birthday of Ronald Reagan with speeches celebrating his small government philosophy, anti-tax fervor and hard-line foreign policy. But if Reagan was a GOP candidate today, he would doubtless fall victim to violations of his own 11th Commandment, "Thou shalt not speak ill of any fellow Republican." Because despite all of the right-wing hagiography, Ronald Reagan
ballooned the national debt, repeatedly raised taxes, signed abortion rights legislation and negotiated with terrorists in Iran
. For those and so many other perceived offenses, the GOP rank and file - and especially its purity-demanding Tea Partiers - would today brand a reanimated Ronald Reagan a Republican in Name Only..."
http://crooksandliars.com/jon-perr/meet-rino-reagan
~~~
Labels: Reagan, Republicans, Republicans Are Evil™